The Jewelry Exchange® | The Jewelry Factory®
Goldenwest Diamond Corporation, better known as the Jewelry Exchange, and Jewelry Factory, is one of the largest direct diamond importers in the U.S. and is the largest worldwide customer of two of only five super site holders in the world. Because of this, they have first access to hard-to-find diamonds and import them at lower prices than most competitors.
-Stan Brin, OCMetro Magazine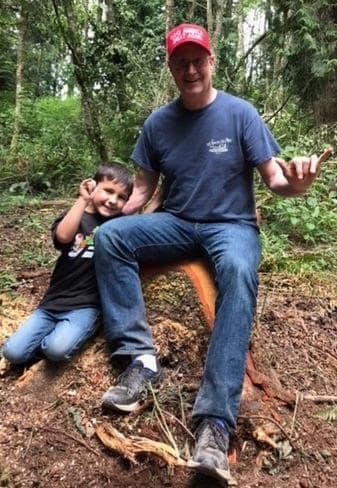 Company History by Bill Doddridge, CEO & President

The following is a brief narrative of how this business was started and how we have become so competitive.
Where We Have Been
I started my career working in my stepfather's pawnshop. I wanted to go out on my own and found a location to open up a pawnshop, but did not have the financing, so I opened it up for my stepfather. In 1977, after saving enough money, I finally went out on my own by buying Buena Park Loan & Jewelry, a pawnshop located in the next town over from his. It was soon apparent that I was not getting enough used jewelry from pawn customers to meet the demand so I began designing my own jewelry. I realized that in many cases I could make the jewelry for less and have more trendy designs than buying used jewelry from the pawn customers. I also started advertising loose diamonds and was able to undercut everyone else's prices by maintaining low margins. I had so many customers coming back with appraisals 3 to 4 times more than what they had paid, that in 1984 I decided to guarantee all of my jewelry to appraise for double.

In 1986 I moved the business to Main Street in Santa Ana, California and brought jewelry manufacturing in-house. Previously, I used to send the jobs out for setting. Then, in 1987 I went to Israel and started importing diamonds directly. This provided me with savings of 25-30% on both the cost of diamonds and the jewelry I was manufacturing. The event was important because I was now both "Factory Direct" and a "Direct Diamond Importer."

In 1988 the jewelry business had grown so large that I decided to discontinue the pawnshop operations and focus on the jewelry business.

In 1991 I opened a second store in San Diego, California and in 1993 a third store in San Francisco, California. Although the San Diego store was eventually closed, the San Francisco store was a success and did better than I expected. We focused on the Santa Ana and San Francisco models for our future expansions.

In 1994 a competitor (14k Jewelry Mart Exchange) moved right next door to our flagship store in Santa Ana, California, and posted a sign emphasizing the words "Jewelry Exchange"; the "14K" and "Mart" appearing in small letters. Our customers found it difficult to distinguish between the two businesses. That forced us to move to our new headquarters to Tustin, California and seek legal action against this unscrupulous competitor. After four years of preparation, and a two month long trial, the court upheld the validity of our federal trademark "The Jewelry Exchange", granting a permanent injunction against 14K Jewelry Mart Exchange and awarded us damages in excess of two million dollars. However, by maintaining strict business ethics in the jewelry industry, and defending our highest quality and lowest price guarantee; the ultimate winner in this case is you, our valued customer.
Where We Are Going
Currently, Goldenwest Diamond Corporation has fourteen locations across the United States. We are more commonly known by our trade name: The Jewelry Exchange®. However, we also operate as The Jewelry Factory® in New York, Detroit, and Washington, DC.

In 2003 The National Jeweler Magazine recognized us as one of the top ten jewelry companies in the United States and included us in its "100 Million Dollar Super Sellers" list. We continue to move up the ranks of this prestigious list of retail jewelry operations, however, it is our manufacturing process that keeps us ahead of the competition.

Most jewelry stores do not manufacture their own jewelry. Most jewelry stores are simply retailers who buy product from a manufacturer that typically works on a 35 to 40% profit margin. Then, the jewelry store raises the prices again to sell the product to the customer. The Jewelry Exchange is different because we are one of the country's leading jewelry manufacturers. From rings and bracelets, to pendants and earrings, the Jewelry Exchange crafts most of the items that we sell, eliminating the manufacturer mark-up and passing the savings on to you. At the Jewelry Exchange, you are buying factory-direct, so you save. To support our manufacturing retail business model, we doubled the size of our headquarter facility in January of 2002. We continued renovations through August of 2005, and have since developed our dedicated internet department. Since launching our website we been delivering information, education, and value pricing to customers all over the nation. The Jewelry Exchange is positioned to be the leader of the online jewelry business, more than 30 years of jewelry experience puts us miles ahead of our current online competitors. Unlike many of our competitors, we maintain our own imported loose diamond inventory, we design and make our own jewelry, and we do not drop ship from a supplier's warehouse. As with all Jewelry Exchange locations, we are the supplier!

Along with technological advances in operations, and conducting business online, we continue investing in equipment that lowers the cost of manufacturing jewelry, which we pass on to our customers.

We are constantly seeking the latest technology. One of the latest additions is our Power Laser Welder. It allows us to repair prongs without removing the stones and to size and repair platinum. The Power Laser also has a camera inside that allows the repair process to be viewed on a remote screen located on our retail sales floor.

Another state-of-the-art piece of equipment is our newest casting machine. The Neuter® J-zP Autocast™ allows us to create, or cast higher quality jewelry more efficiently. The vacuum casting process used in this machine produces more jewelry per hour, with a marked improvement in precious metal quality. The vacuum casting system removes oxygen from the casting flask, which makes our jewelry minimally free from porosity, and other imperfections found in out dated casting processes. The biggest advantage of this casting machine is the ability to achieve "Stone-In-Wax Casting." Stone-In-Wax casting allows us to set our diamonds, and some precious gemstones into our wax designs before they are turned into gold or platinum pieces. This is yet another way The Jewelry Exchange is finding ways to pass savings on to our customers!

We are also finding new ways to lower our costs of raw materials (gold, diamonds, colored stones…). Today we have the lowest production costs of any jewelry manufacturer in the United States. As a result, our diamond and jewelry prices have continued to become more and more competitive.

With the combination of talented people, a solid infrastructure, and state-of-the-art technology, The Jewelry Exchange is positioned to continue growing while offering our customers the highest quality fine jewelry at the lowest prices.We hope to see you soon in one of our nationwide locations. Thank you for shopping at The Jewelry Exchange®, and The Jewelry Factory®.