Eco
Friendly
$599/ct
½ Carat
¾ Carat
1 Carat
1½ Carat
2 Carat
3 Carat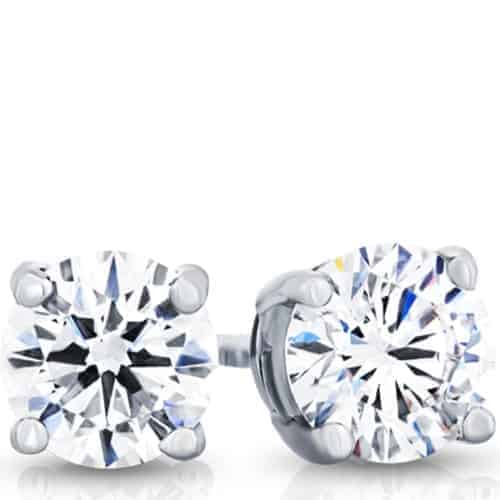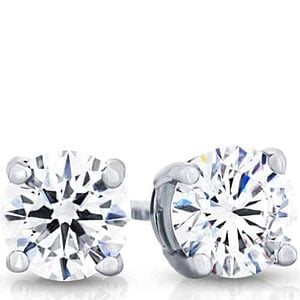 Diamond studs can brighten your appearance, drawing attention to your face with glittering stones. From round cuts to uncommonly seen diamond shapes, our inventory of these earrings will have the perfect pair for you or a loved one. For a streamlined browsing experience, we've categorized our diamond studs by price, shape, and quality. We also have a section dedicated to our diamond stud specials, so you can browse our featured pairs all in one place.
But if you are looking to purchase your very first pair for yourself or your loved one, where do you start?
Lucky for you, you've found The Jewelry Exchange's diamond stud earrings information page. Here, we've conveniently placed the most common info you'll need to know at a single glance for easier shopping and browsing than ever. Our chart lets you search for our Great Value, Lab-Grown, Top Quality, High Grade, and Two Carat diamond stud earrings, listing prices from $129 to $1990. Additionally, you can search by carat and weight range for each category.
Diamond quality is a very crucial element to many, while not so much to others. This relates to the color and clarity of each diamond. Searching by quality will allow you to browse our promotional, standard, high-grade, and certified earrings. Our promotional and classic diamond stud earrings will offer you the best value for beautiful, quality stones. They provide a fantastic shimmer and rank well in clarity. Plus, these collections offer the most extensive selection. The high-grade earrings are our best diamond studs, with excellent color and clarity grades. While more expensive, these have a more enhanced sparkle and clearness with the naked eye. Our certified offerings have been graded by either EGL USA or GIA (Gemological Institute of America). This certification will be given to you as proof of your diamonds' grading.
Diamond studs can be a wonderful gift for a loved one or yourself! We guarantee they'll be gorgeous no matter your style or quality. If you have questions about our diamond studs, don't hesitate to contact us, and we will be glad to assist you if you live near one of our 14 locations and would like to make an appointment, book online, or call us at 888-539-3574."